As one of the most coveted employee benefit perks, a growing number of companies in China are offering group health insurance to stay competitive in retaining and attracting top talent. In fact, around 65 percent of employees in China have some form of employer-provided health insurance coverage. That said, common coverage deficiencies in corporate health insurance have led to growing demand for top-up insurance products in the nation.
To address the most commonly asked questions about top-up insurance in the two most populous expat cities in China, our team of insurance experts at Pacific Prime China have recently released 2017-2018 Top-Up Guides for both Shanghai and Beijing. This week's blog post provides an overview of what the guide covers, as well as what a top-up plan is, what it covers, and why you would need it.
Inside our Shanghai and Beijing Top-Up Guides
Our Shanghai and Beijing Top-Up guides are valuable resources for anyone possessing employer-provided health coverage who is considering additional options to supplement it, or who feels that their corporate cover may not be quite enough. By downloading our Shanghai or Beijing Top-Up Guide, you'll get answers to some of the most commonly asked questions we get around top-up insurance, including:
What is a top-up plan?
What are the main hospitals in Shanghai/ Beijing?
What are the most common deficiencies in employer-provided health plans?
What are the costs of treatment at public vs private hospitals in Shanghai/ Beijing?
What are the top-up insurance solutions available to you?
And more.
To answer the above questions the best we can, both Top-Up guides are broken down into five easy-to-read sections:
Background on top-up insurance plans in Shanghai/ Beijing
Hospitals in Shanghai/ Beijing
Common employer-provided insurance policy gaps
Actual costs of medical treatments and surgeries in Shanghai/ Beijing
Insurance solutions available to address deficiencies in employer-provided plans
Best of all, our Shanghai and Beijing Top-Up Guides are both available to download for FREE from the health insurance guides section of our website, which also features a whole range of other insurance and healthcare related guides dedicated to simplifying insurance for expats living in China.
What is top-up insurance, and what does it cover?
A top-up insurance policy provides additional coverage benefits to make up for the gaps and deficiencies in an existing employer-provided health insurance policy. It can work out to be the cheapest option for complementing your corporate cover, especially when compared to purchasing a separate medical insurance policy from scratch.
With a top-up plan, you can lower your premiums by using your employer-provided health insurance as a primary level of coverage, and then making claims with your top-up plan where hospital bills have exceeded or are not part of the coverage benefits included in your company health insurance plan. In the table below, we've included an example of how a top-up arrangement may work vis-à-vis an employer-provided plan: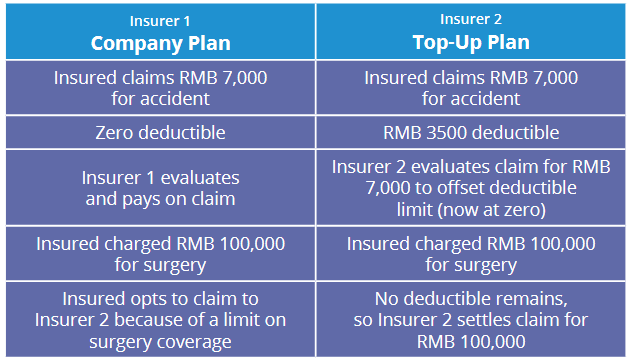 Source: Shanghai Top-Up Guide 2017-2018
In addition to topping up on coverage limits, another major advantage of top-up insurance is that it can offer extra benefits that are not covered by your existing corporate health insurance plan. These can include benefits for serious illnesses, out-patient cover (e.g. vaccinations, specialist visits, health screenings, Traditional Chinese Medicine), maternity, dental, and vision cover, as well as extended geographical coverage (i.e. international cover).
Why do I need top-up insurance?
Top-up insurance can be the best, most cost-effective solution for complementing and making up for deficiencies in employer-provided cover. This is especially true for employees who have very basic employer-provided health insurance, or a corporate policy that does not suit their healthcare requirements, as top-up plans can really help reduce the financial risk of spending hundreds and thousands out of pocket on treatments not covered by company health insurance.
One major factor boosting demand for top-up plans in China is the ever-increasing cost of care, which has illuminated the need to secure more comprehensive private health insurance with higher limits and more coverage benefits for better protection.
The need for supplementary health insurance coverage is even greater if you usually/ only seek care at private facilities, where costs are in most cases significantly higher than public hospitals. For instance, a GP visit at a VIP clinic or international hospital in Shanghai can cost up to RMB 1,000, and a health checkup can cost up to RMB 12,200.
Further tests and procedures will cost more, e.g. a colonoscopy costs around RMB 12,000, an emergency surgical procedure usually costs around RMB 50,000, and a maternity c-section package costs up to RMB 98,000. With these costs in mind, it is easy to see why securing a top-up plan can really help in further offsetting your medical expenses.
Get your copy of the Top-Up Guide today
For a more in-depth overview on everything you need to know about top-up insurance in Shanghai or Beijing, be sure to get your free PDF copy by clicking on the link(s) below today:
If you have any more questions, or would like to learn about your top-up options in China, get in touch with our helpful advisors at Pacific Prime China today. With years of experience offering impartial advice to expats in China, our experts are standing by to answer all your questions, match you with the best insurance solutions for your needs, and give you a free quote.